Dr. Travis Nick has been working as a veterinarian at Scottsdale Ranch Animal Hospital in Scottsdale since 2000, following in his father's footsteps.
Request Appointment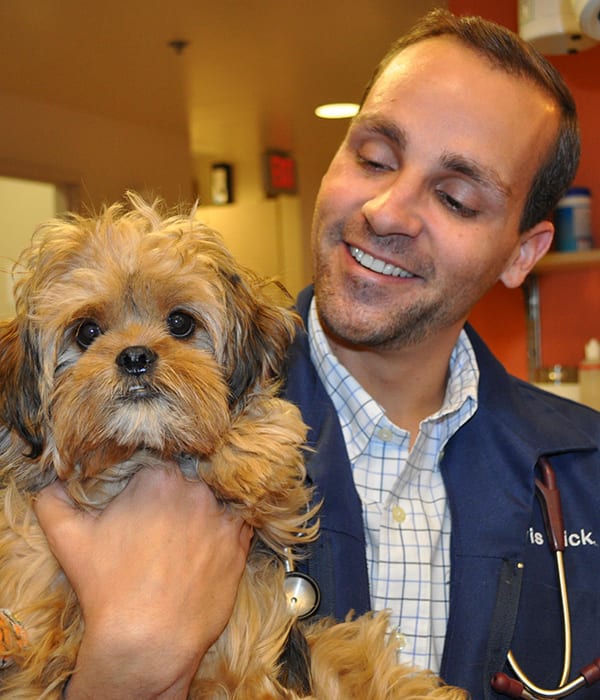 About Dr. Nick
Dr. Travis Nick has been practicing as a veterinarian at Scottsdale Ranch Animal Hospital since July, 2011, however, long-term clients may recognize that he has worked at the hospital since 2000 in other capacities. Born in Stillwater, Oklahoma while his father and practice founder, Dr. John Nick, was attending veterinary school, Dr. Travis Nick was raised in Scottsdale. He graduated from Paradise Valley High School as class valedictorian.
After high school, Dr. Nick attended Baylor University where he graduated with a Bachelor's Degree in Economics. He completed his veterinary education at the Colorado State University College of Veterinary Medicine, graduating with honors in 2010. He then completed a prestigious internship in small animal medicine and surgery at The Ohio State University from 2010 to 2011, where he participated in the training and education of over 140 senior veterinary students.
Dr. Nick is a member of the American Veterinary Medical Association, the Arizona Veterinary Medical Association, and Phi Zeta, the national veterinary honor society. His professional interests include internal medicine, soft tissue surgery, and diagnostic ultrasound. When he is not practicing veterinary medicine, Dr. Nick enjoys many hobbies, including golf, swimming and scuba diving, traveling, and following the local sports teams.